eCapture is an electronic survey software platform that was built with mobile devices in mind. Two features that work hand in hand with eCapture's mobile survey software are;
GPS
Using Google maps technology eCapture lets you track the location of your surveys from anywhere in the world.
Offline
With eCapture you can start your survey, take a break, and then continue even if you are offline. When you are back online you can choose when to upload the completed survey.
Below is a sample image of surveys completed and tracked using the mobile questionnaire tool in South Africa;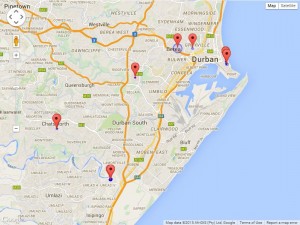 Create Surveys Simply